Electrical, telephone and light poles often corrode and get damaged with aging and break during storms and hurricanes. We offer a patented system using PileMedic® laminates to strengthen these structures in-situ while they remain in service. In recent years, cellular telephone companies also have faced a need for strengthening their support towers. The reason for such strengthening is due to addition of equipment as the industry has moved from 3G to 4G to 5G and beyond and seismic upgrade of these structures in earthquake-prone regions. Our repair solutions eliminate the need for replacement of the structure and extend the service life of these structures by decades.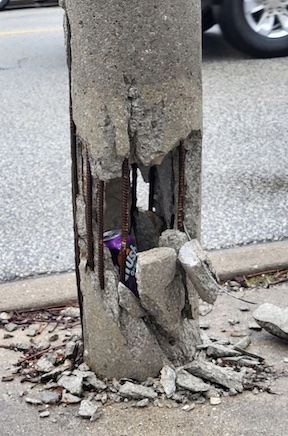 Utility Poles
We can restore the full capacity of timber, concrete or steel utility poles efficiently with virtually zero disruption of service. In many cases, the strength of the utility pole can be increased by a factor of 100% or higher, allowing these structures to carry larger loads and avoiding their costly replacement. The repair and strengthening of each type of utility pole is described below.
Timber Utility Pole Strengthening
Wood or steel utility poles often need repair or replacement. Years of use and inadequate maintenance take their toll on the poles. A combination of cyclic climate changes and infestation by various insects such as termites also contribute to the deterioration of wooden poles. The result is a continuous weakening of the wooden utility poles.
Consequently, a large number of wooden poles fail every year in storms, tornadoes, hurricanes, etc. Failure of utility poles leads to disruption of service to customers and continues to remain a major concern for utility companies that own and operate these poles. Our initial testing and development of these repair techniques was in collaboration with Tucson Electric Power (TEP) to increase the resiliency of their power grid network. Videos of those tests and recent projects are shown at the bottom of this page.
Click here to learn more about the tests of timber utility poles that we conducted in association with Tucson Electric Power (TEP).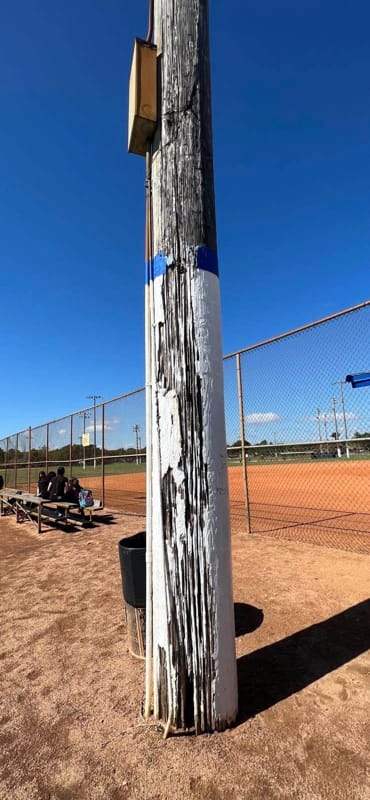 Here is an overview of the key features of the PileMedic® repair and strengthening system:
Repairs can begin from a few feet below grade to any desired height on the pole
Carbon laminate strips can be added to significantly increase the flexural strength of the pole
The strength of the pole can be increased by 200% or 300% of the original strength!
The strength enhancement is in all directions (360 degrees)
The thin laminates can pass through small gaps between two adjacent poles
By injecting a low viscosity resin into the wrapped pole, all voids and crevices inside the pole will be filled, adding significant strength
Finished poles can be painted brown, making them virtually indistinguishable from a new pole
The impervious FRP shell will keep all moisture and bugs out, prolonging the service life of the utility pole by decades
Click here for a project overview of a PileMedic repair of termite-damaged utility poles for Santee Cooper in Wando, South Carolina.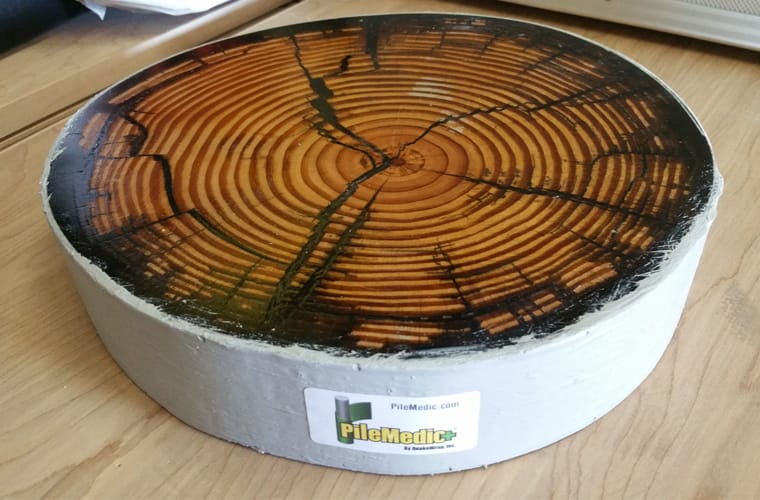 Steel Utility Pole Repair
Steel utility poles and light poles often corrode at the base. Even galvanized steel may corrode from inside and often the damage is invisible from outside until the pole fails (typically in flexure during a storm). Failure of light poles in public places such as parks and sports fields is particularly a life safety concern. In most cases, the damage is concentrated at the base, requiring the strengthening of only a few feet near the foundation and at times, the foundation itself. The latter can be achieved by drilling and epoxy anchoring new steel rebars into the foundation.
Because there is limited bond between newly cast concrete and the steel pole, consideration must be given to proper load transfer. This can be by welding shear studs or when that is not feasible (e.g. hot works and welsing are not allowed), the patented ShearWrap and ShearClamp systems can be used. These custom-made products are tightly torqued around the existing pole and allow significant load transfer through friction.
PileMedic® laminates allow the creation of a very strong "stay-in-place" form around the steel pole that gets filled with concrete. This FRP shell or form is equivalent to #4 ties (or hoop reinforcement) at a spacing of less than 4 inches along the height of the pole. This further simplifies the design and construction since it eliminates the need for any steel ties around the vertical (longitudinal) reinforcement.
PileMedic® repairs weak or damaged utility poles that are difficult to reach or replace using strong, highly corrosion resistant FRP laminates that completely encapsulate the damaged area.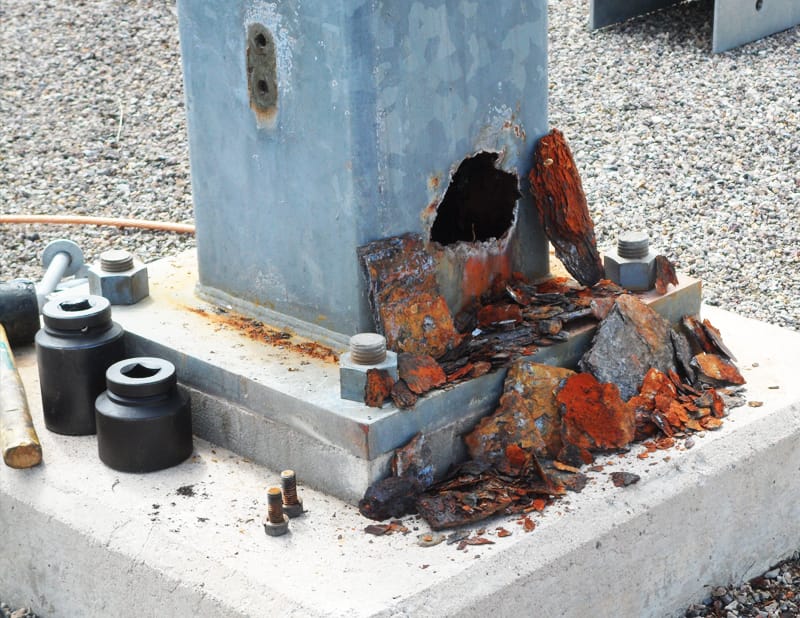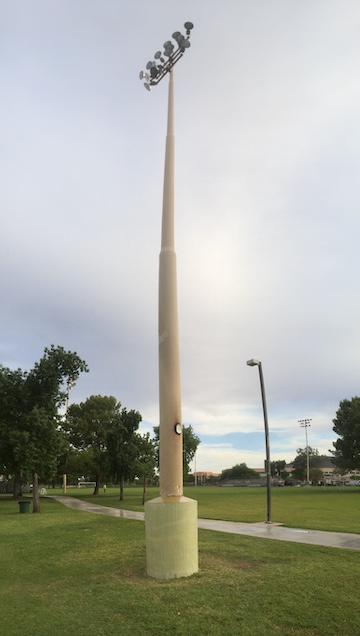 UTILITY POLE REPAIR videos
Cell Phone Tower Strengthening
With increased use of mobile communications worldwide, cell phone towers are expected to support more equipment and heavier loads that exceed their original design capacity. Lateral loads from wind and seismic considerations are another reason for upgrading the capacity of communication towers. This requires strengthening of the towers. In many cases these towers are located in congested urban areas where the use of guy wires is not an acceptable support option. The patented PileMedic® offers a unique fast and economical solution to strengthen these towers even in tight spaces where access is limited. QuakeWrap engineers will provide sealed design and construction documents for all 50 states for such projects. We have retrofitted some 200 cell phone towers in the U.S.
In some cases, the foundation of the tower also needs to be strengthened. This can be done by drilling holes and embedding reinforcing bars in the foundation. The regions of these bars that are above ground can be encapsulated in the PileMedic® jacket. Carbon fabric or laminate strips can also be bonded along the height of the tower for flexural strengthening. Two recently published papers provide more information for such repairs. The key features of this repair technique include:
The tower can be strengthened to 2-3 times the original capacity
Towers remain fully operational during repairs
The repair adds only 2-3 inches to the diameter of the tower
The repair allows maintaining the original taper of the tower
Cell phone towers can be repaired with minimal access requirement
The footprint of the repair is very small and confined to the base of the tower only
The impervious FRP repair will prolong the service life of the tower by decades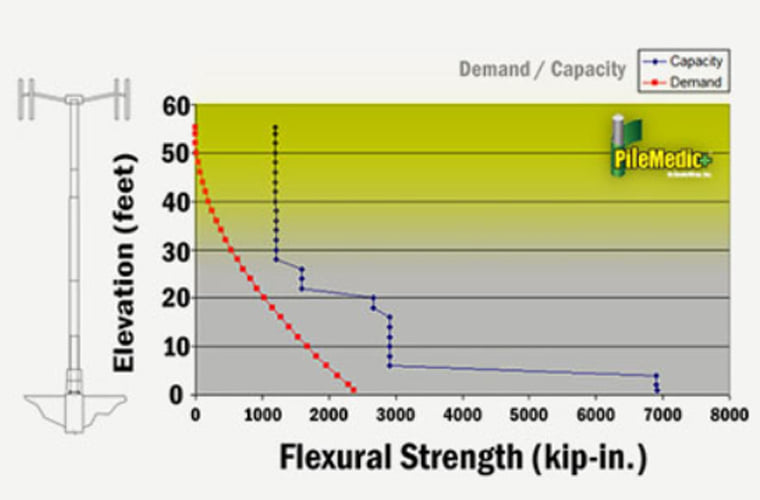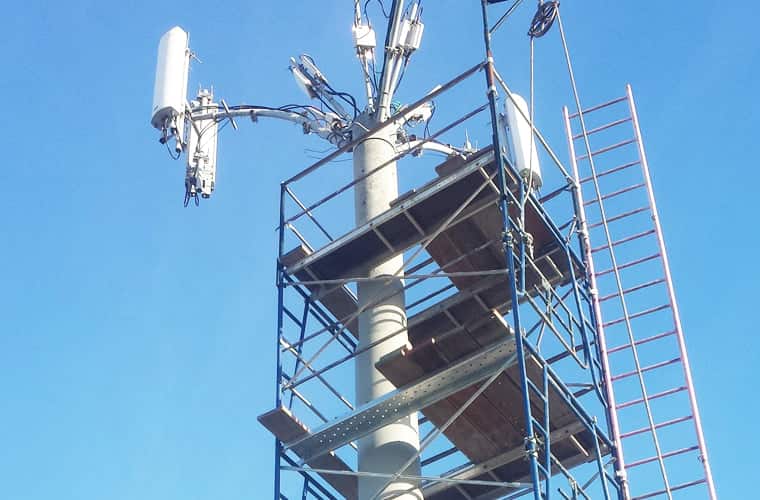 Project Links
Utility Poles:
Timber Piles:
Cellphone Towers:
PileMedic® Advantages
Here are some of the advantages of PileMedic® over other pole repair methods:
1
One-size fits all
Currently available jackets and shells fit a specific pole size. Contractors must plan in advance and order the correct size jacket for each application. PileMedic® uses the same size laminate for all poles and columns and accommodates circular, rectangular, and H-section poles. It is extremely versatile.
2
Ease of Emergency repair
PileMedic® is versatile; "one-size fits all". This is a great help in emergency repairs after a disaster like a hurricane or earthquake, where many poles must be quickly shored up. The PileMedic® repair system is instantly available from stock
3
Freedom from Surface Repair & Preparation
PileMedic® is versatile; "one-size fits all". This is a great help in emergency repairs after a disaster like a hurricane or earthquake, where many poles must be quickly shored up. The PileMedic® repair system is instantly available from stock.
4
One piece Solid Shell Permits Pressurization
Current repair shells usually have two or more sections bolted together. This makes them weak, and does not allow pressurization of the filler material. In contrast, the SuperLaminate™ shell is wrapped around the damaged pole to form a "seamless" one-piece shell that is extremely strong and can accommodate high pressure injection. The injected resin penetrates deeply into the damaged wood.
5
Corrosion-resistant Materials
Many existing systems use metallic bands and straps or steel bolts to connect the pieces together. These metal parts are subject to corrosion and deteriorate over time. This is a major concern in coastal and marine environments and other corrosive environments. In contrast, the SuperLaminate™ shell uses only composite FRP materials that have excellent corrosion resistance and do not rust. There are no metallic straps or bolts.
6
One piece Solid Shell Permits Pressurization
Utility poles are often damaged below the surface. Conventional repairs require a trench to uncover the problem area and allow it to be restored. PileMedic® eliminates this expensive and time consuming process. It installs directly, and penetrates the earth to surround the subsurface defects and fill them with resin. No more trenching!