Introducing SPiRe®+
PATENT PENDING
Following the successful launch of the Sheet Pile Repair (SPiRe®) system 5 years ago, SPiRe®+ is our latest patent-pending solution for repair of seawalls and bulkheads that offers even more benefits beyond those of the original SPiRe® system.
These panels are made with high-strength non-corroding Fiber Reinforced Polymer (FRP) and are installed as easily as the original SPiRe® system. SPiRe®+ offers the following additional advantages:
The protruding T profiles lock the panels into the concrete or grout that is placed and become an integral part of the wall.
The inside face of the panels and the T profiles have a rough grit-finished surface that improves their bond to concrete. This allows the panels to behave as structural reinforcement for the new concrete wall. Thus, the panels themselves without any additional reinforcing bars provide significant bending (flexural) and shear capacity (approximately #7 Grade 60 steel @ 6 inch spacing).
Special clip-on spacers snap into the T-profiles and can hold any rebars if additional strength is necessary.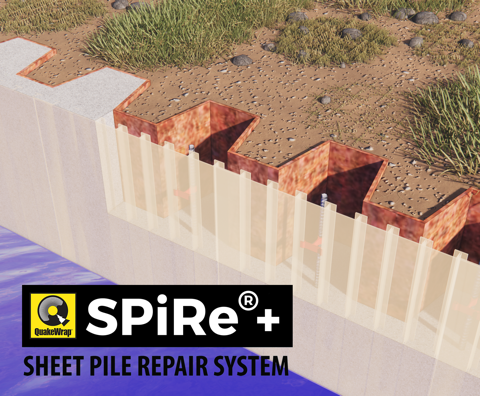 When the original sheet pile is severely corroded, new steel H piles can be driven a few inches away from the seawall and the SPiRe®+ panels are placed horizontally, spanning between the H piles. The new system can be designed to resist all or part of the soil pressure that was being taken by the corroded seawall.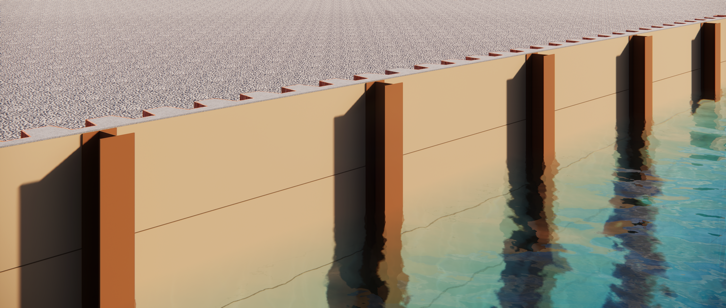 For repair of corroded pier decks and beams, SPiRe®+ panels can be cut to the required width and length on the job site and connected using the corner connector elements to build a formwork of the desired shape and size. The form can be lifted from below and secured to the host structure using anchor bolts. If necessary, additional reinforcing bars can be embedded inside the form before it is lifted in place. The annular space between the SPiRe®+ panels and the host structure is filled with concrete that can be pumped from below or through holes drilled through the deck slab. The SPiRe®+ panels will not only save time and money during the repair, but the impervious shell will also protect the host structure permanently from corrosion.