Liquid Storage Tanks
Traditionally, wet layup FRP fabric has been used to repair and strengthen water and gas storage tanks as shown here. These fabrics can be applied on the inside of the fluid storage tank as shown here or wrapped on the outside of the storage tank for confinement. The FRP fabric also stops leakage in the storage tank and makes it leak proof. To watch a video of a project for repair of liquid storage tanks with the wet layup system, click here.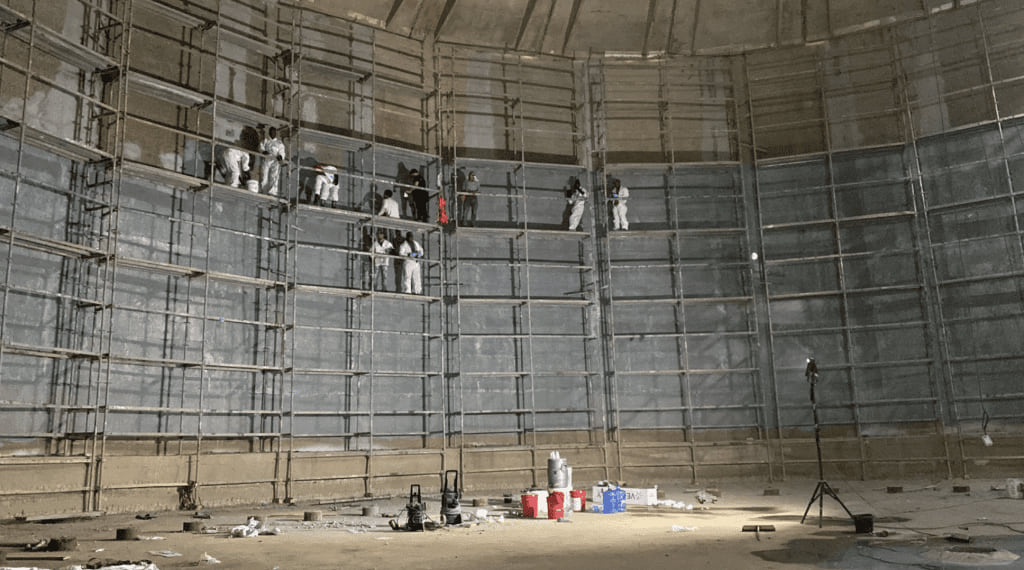 Storage Tank Repair with PileMedic
When the wall of a steel liquid storage tank is severely corroded, application of wet layup FRP fabric as shown above is not a feasible solution. There are also cases where the liquid storage tank roof is being supported on the tank wall; addition of FRP can contribute little to the axial load bearing capacity of the liquid storage tank wall.
Our patented system allows us to repair such storage tanks using PileMedic laminates similar to a very large pile. Optional vertical reinforcing bars can be anchored into the foundation and supported along their heights with spacers. If required, horizontal reinforcing bars can also be placed along the height of the tank. Nine-feet wide sheets of PileMedic laminate are tightly wrapped around the tank for one or more layers. The annular space between the PileMedic laminate and the steel tank wall is filled with concrete. Additional 9-ft wide laminates are wrapped around the tank and filled with concrete. The process continues until the a new wall is constructed covering the entire height of the corroded liquid storage tank.
The use of PileMedic laminates for such applications makes the construction very easy. The laminate provides hoop and axial strength that can be included in the design. The laminate also serves as a durable impervious layer to keep moisture and oxygen away from the corroded wall of the storage tank, thus prolonging the tank's service life.