Sheet Pile Repair (SPiRe®) System
Seawalls and bulkheads are walls that are constructed along the coastlines to hold back the soil and prevent erosion of the soil from water. These structures can be made in a number of ways from concrete, steel sheet piles (z-shaped and others) as well as timber. The dry-wet cycle of water causes rapid deterioration and corrosion of seawalls and bulkheads, in particular at the splash zone (the region from low-tide to high-tide water elevation). If you are considering repairing or strengthening a corroded steel, concrete or timber seawall and bulkhead, we invite you to download our specifications and typical details.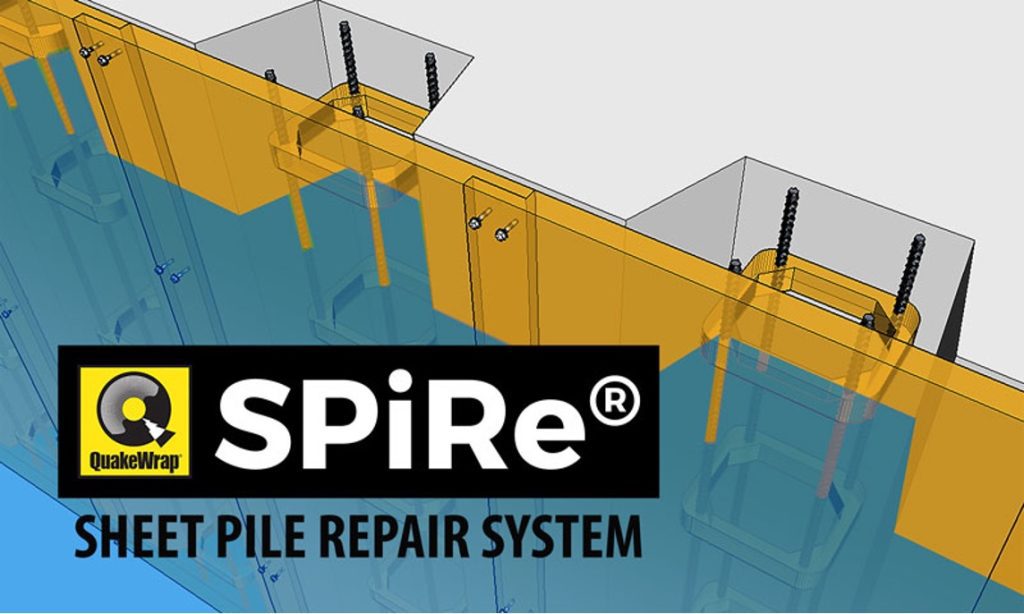 Conventional Repair Techniques
For steel sheet piles, the typical repair or protection of the wall can take two forms. One is to install a Cathodic Protection (CP) system. These systems work well and can protect the wall from corrosion. However, they require ongoing maintenance and replacement of the anodes once they are depleted. This is a task that cannot be guarantied with the changing of staff who are supposed to maintain the facility. This adds to the cost of the solution. Moreover, if maintenance of the CP system is ignored, corrosion will take place at a more accelerated rate, leading to faster damage and deterioration of the host structure.
Another repair alternative is to paint the corroded wall. This type of repair requires building a coffer dam in front of the seawall, dewatering the area, sandblasting to remove all rust from the wall, drying the wall, and applying a new coating (paint) to the wall before the coffer dam is removed. This becomes a very costly process that disrupts the operation of the facility for the entire repair duration.
Sheet Pile Repair (SPiRe®) System
The patented SPiRe® system (US Patent #10968631) allows for fast and economical repair of corroded seawalls and bulkheads. The panels are made of rigid FRP products using the sandwich construction technology that is common in the aerospace manufacturing industry.
A typical flat SPiRe® panel is about 3/8 inch (10 mm) thick as shown here. These panels are about 4-ft (1.2 m) wide and can be overlapped along the longitudinal edge. The length of the panels vary and longer panels can be cut in the field to meet the project requirements. The installation steps for a typical job may include the following steps:
Install J-bolts or other anchoring means in the host sheet pile
If required, install GFRP reinforcing bars and spacers
Apply QuakeWrap® underwater epoxy paste along the overlapping edges of the SPiRe® panels and secure these panels to the J-bolts
Continue the above steps until the require length and height o fetch wall is covered with SPiRe® panels
Secure temporary strong back (walers) with the provided hardware to minimize the panel out-of-plane deflection during placement of concrete or grout
Seal the edges of the entire SPiRe® panel assembly; this can be done by embedding the bottom of the SPiRe® panels in seabed or by using one of our sealing methods if the repair covers a partial height of the seawall only.
Fill the annular space with grout or concrete for a height of 6-12 inches (150-300 mm) and allow the grout to set to create a plug at the bottom.
Continue the grout placement using the tremie method to the top of the SPiRe® panels
Remove the walers and associated hardware
Cut and trim the protruding ends of the J-bolts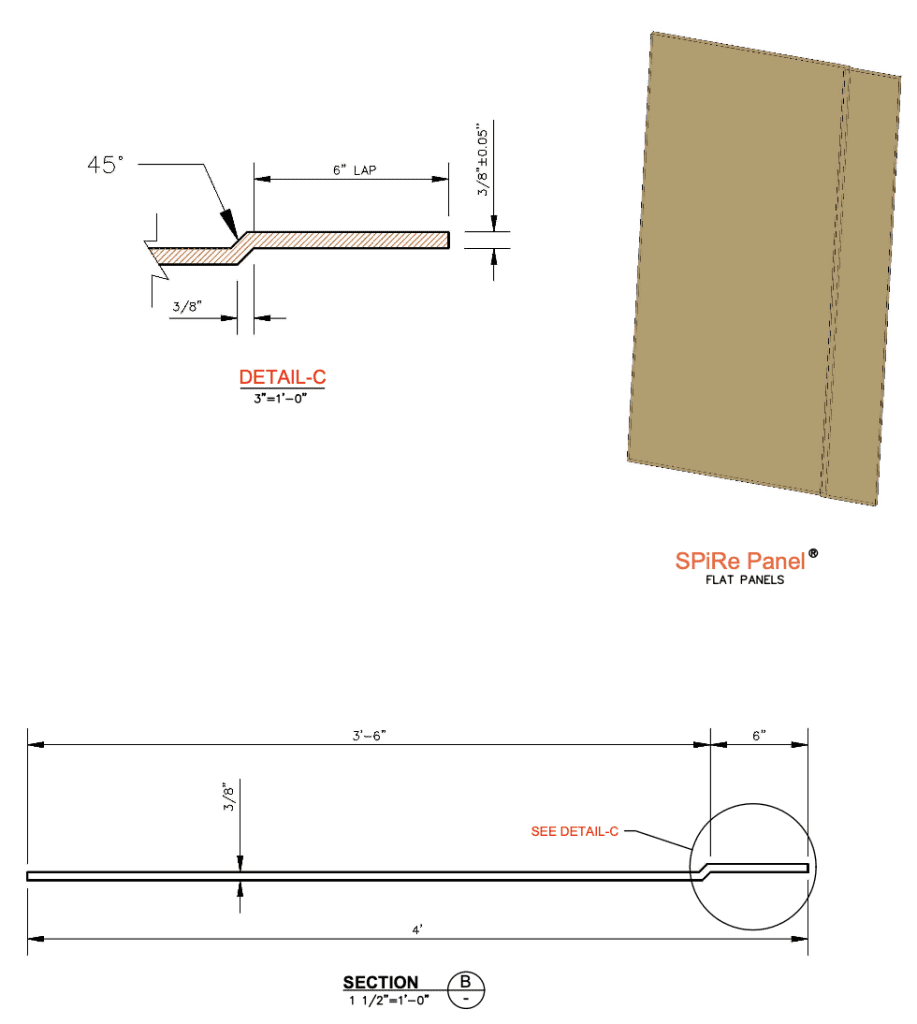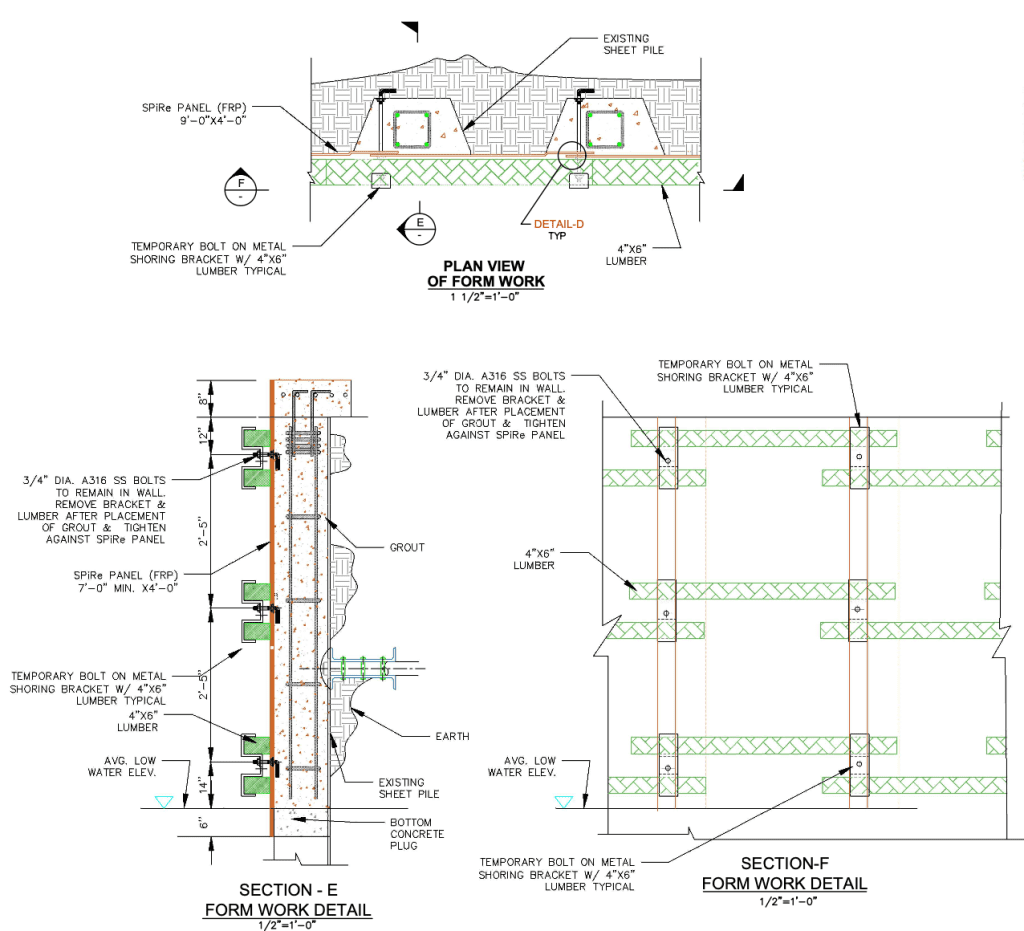 Sample Project Videos
Below are the links to a few sample projects where SPiRe® was used to repair corroded steel sheet piles and bulkheads: