Repair of Beams and Decks
Beams, decks and slabs in marine environment get damaged by corrosion of reinforcing steel. These elements are often close to the water with limited access from the underside. Consequently, repairs can become very challenging and costly. If you are considering such a repair project, we invite you to download our specifications and typical details. If you don't find what you need there, contact us for a free consultation and we can provide you the specific item you need.
Sandblasting and removal of the deteriorated concrete is relatively easy. But forming and placement of new concrete to repair the beams and decks could become a very costly operation. This is particularly true for cases where there is little headroom above the waterline for crew to perform the work overhead. These repairs can be performed much more efficiently using the patented SPiRe system.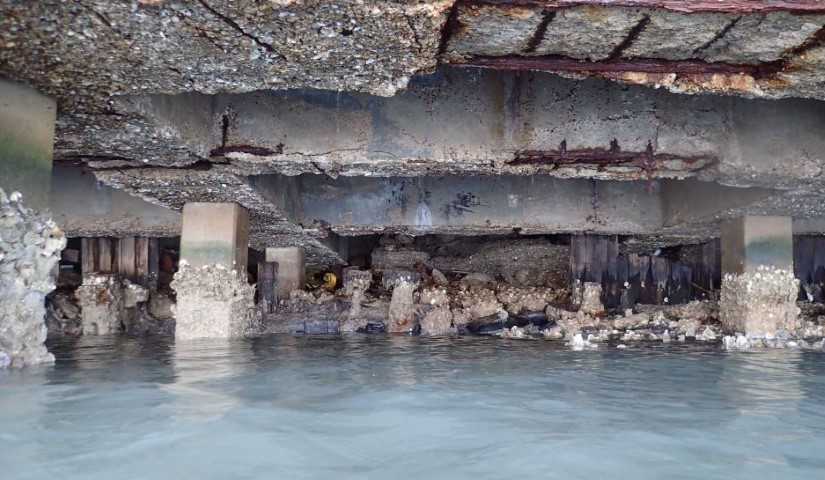 The FRP forms are customized to fit the exact shape and size of the beam or deck. Once the damaged concrete is removed, the crew will lift these shells from underside of the deck and secure them to the deck or the sides of the beam. Additional non-corroding GFRP reinforcing bars can be inserted inside the shell prior to installation to account for any loss of capacity in the beam from the corroded steel reinforcing bars. The annular space between the SPiRe shell and the concrete beam/deck will be filled with concrete or grout. These can be added from the top or from injection ports inserted on the sides of the SPiRe shell. The shell will stay in place forever, protecting the beams and deck from moisture and corrosion.